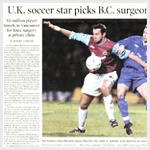 U.K. soccer star picks B.C. surgeon
Mar 08, 2002
The Vancouver Sun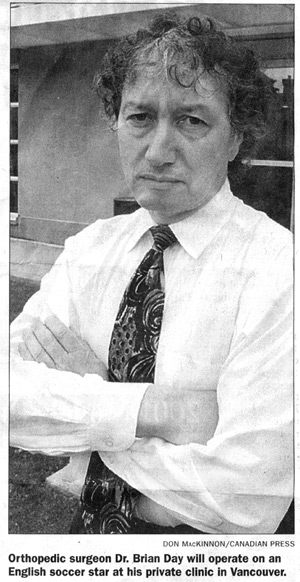 U.K. soccer star picks B.C. surgeon
$11-million player travels to Vancouver for knee surgery at private clinic
Jeremy Sandler, Vancouver Sun
Friday, March 08, 2002
An $11-million British soccer player is travelling to Vancouver to have a local orthopedic surgeon rebuild his knee in a private clinic here.
Don Hutchison, a midfielder with West Ham United of the English Premier League, elected to pass on European doctors and skip over the pond to have his ruptured anterior cruciate ligament repaired by Dr. Brian Day at the Cambie Surgery Centre.
A world-renowned surgeon, who will assume the presidency of the Arthroscopy Association of North America next year, Day has also treated American actor Sylvester Stallone. He has repaired countless other European soccer stars and used to look after the Vancouver Whitecaps when they were part of the old North American Soccer League.
Day said living in Vancouver since 1973 has given him years of experience dealing with injuries to anterior cruciate ligaments, the tissue behind the kneecap that holds the joint together.
"We have pretty well had a 25- or 30-year epidemic of anterior cruciate ligament injuries," he said. "I think a lot of people don't realize that in Vancouver we probably treat more injuries of this type than any other city in the world, partly because a large percentage of those are ski injuries. We have a major city right at the foot of ski mountains and one of the best and biggest ski resorts in North America."
West Ham acquired Hutchison, a Scottish international who played for that country in the Euro 2000 playoffs, from Sunderland last August for an $11.3-million transfer fee.
He injured his knee in a 1-0 win over Middlesbrough in late February. Day said the injury is common among high-level soccer players because of the stresses the sport places on the knee and the movements it requires.
"That's the whole core of soccer: land, rotate and pivot," he said, adding he was confident the surgery, as non-invasive as possible, would be successful.
Though Hutchison will likely be up and about soon after the operation, his rehabilitation program will keep him out of West Ham's lineup for eight to 10 months.
Vancouver-born Canadian international goalkeeper Craig Forrest, a West Ham teammate of Hutchison, played a role in leading the midfielder from England to Vancouver for his operation.
Forrest, while recovering from hernia surgery, introduced West Ham physiotherapist John Green to renowned Canadian pelvic specialist Diane Lee, of Delta. In turn, she recommended Green contact Vancouver physiotherapist Alex McKechnie, who has worked with the likes of NBA stars Shaquille O'Neal and Jamal Mashburn and NHL all-star Paul Kariya of the Anaheim Mighty Ducks.
McKechnie and Day are close associates, bringing the West Ham connection full circle.
The 55-year-old Day, who also works at the University of British Columbia hospital, is no stranger to soccer. Born in Liverpool, he grew up rooting for West Ham rival and Hutchison's former team, Everton, putting him somewhat in the enemy's camp when he goes to work on Hutchison's knee.
"I am afraid so," he said with a laugh before adding more seriously: "I don't look at it like that."
Still a fan who follows the game over the Internet, Day did inadvertently come out against his team when talking to Green about bringing Hutchison over.
"I was talking to the physiotherapist a week or so ago," Day said. "He said he's got a game on Wednesday and I said I hope you win."
Afterwards, Day realized that next game was against Everton, which fell 1-0 to the Hutchison-less and injury depleted West Hammers.
"So I kind of jinxed my own team," Day said, adding there might be a bright side for his patient. "It's better that he feels better for his operation, I think."
Day does does not consider it any kind of feather in his cap that he was chosen to repair the player's knee.
"I don't mean to toot my own horn," he said. "There are lots of well-qualified doctors all over the world."