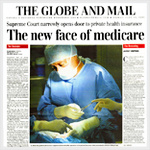 The new face of medicare
Jun 10, 2005
The Globe and Mail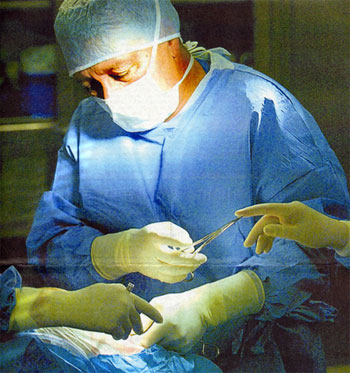 Brian Day performed two knee surgeris and one shoulder operation at his private Vancouver clinic yesterday for patients willing to pay.
The new face of medicare
Supreme Court narrowly opens door to private health insurance
By KIRK MAKIN and JEFF SALLOT AND RHÉAL SÉGUIN
TORONTO, OTTAWA and QUEBEC -- Government bans on private health-care options have jeopardized the life, health and psychological well-being of Canadians, the Supreme Court of Canada said in a landmark ruling yesterday.
In a narrow and hotly contested 4-3 decision, the court struck down a Quebec prohibition on private health insurance, saying the public system has failed to deliver medical care in a timely, reliable way.
It said there is ample evidence that Canadians have suffered grave health consequences as one government after another promised to eliminate waiting lists, only to dither as the crisis worsened.
The decision means that any Quebecker can potentially purchase health insurance for private health services immediately. In other provinces that have prohibitions on private health insurance, residents must either wait for their government to give up the fight and pro-actively drop these barriers, or else go to court waving yesterday's ruling.
The ruling set off an immediate political chain reaction yesterday, with some political leaders insisting that the court has effectively paved the way for two-tier medicine.
Besieged by calls from labour groups, public health-care activists and the provincial opposition to invoke the Constitution's notwithstanding clause to override the ruling, the Quebec government said it will ask the Supreme Court to delay the effect of its ruling.
However, Quebec Premier Jean Charest also said the government will ultimately comply with the ruling, and that it can do so without undermining the public health-care system.
"In the end, it will not impose a choice upon the people of Quebec," he said. "We are going to look at all the details of the ruling, but we are certainly going to do what we have to do to preserve the health-care system in which we believe."
In Ottawa, Prime Minister Paul Martin attempted to play down the ruling, saying it will not become the thin edge of the wedge toward the establishment of different standards of health care in Canada for the rich and the poor.
"We are not going to have a two-tier health-care system in Canada," he vowed.
Mr. Martin and Health Minister Ujjal Dosanjh said that $41-billion in additional financing the government is pumping into the health-care system over the next 10 years will solve the problem of waiting lists.
But the Canadian Medical Association said the financial commitment isn't nearly enough to provide the kind of quality health care patients deserve.
"It's just kept us from bleeding to death," CMA president Albert Schumacher told a news conference.
Dr. Schumacher said there are "tens of thousands" of individuals across the country who could launch, and win, a similar court action in their home province. "This is going to crank up the speed of the treadmill considerably," he said.
The Quebec laws struck down by the Supreme Court yesterday guaranteed a virtual monopoly on medical services for the public health system.
While only three of the four judges in the majority used the Canadian Charter of Rights to strike down the legislation, constitutional experts left little doubt that laws in other provinces would suffer the same fate.
The ruling opens up the likelihood of hybrid health-care systems across the country. These would likely see the public system continue to supply the bulk of medical services, but private health insurance would also be readily available.
"The evidence in this case shows that delays in the public health-care system are widespread, and that, in some serious cases, patients die as a result of waiting lists for public health care," Chief Justice Beverley McLachlin and Mr. Justice Jack Major wrote, on behalf of Mr. Justice Michel Bastarache.
Senator Michael Kirby said the decision should finally prod governments into improving public health care and eliminating waiting lists. "The real winners of this are Canadians who are sick," he said. "Not because of a parallel private system but because it will lead to huge improvements in the public system, and no parallel private system."
However, Roy Romanow, the former Saskatchewan premier who headed a commission of inquiry into Canada's health-care system, said politicians must not wait for the next court decision before acting.
In an interview, he called for an early first ministers conference to deal with issues such as waiting lists, saying: "We've been in this jackpot for 10 years when the cutbacks began. It's not going to be solved overnight."
The court majority refused yesterday to be stampeded by government arguments that a private-care option spells the destruction of quality public health care. They said that many Western democracies with a private health-care option are providing better and less costly medical care than Canada does.
"When we look to the evidence rather than to assumptions, the connection between prohibiting private insurance and maintaining quality public health care vanishes," Chief Justice McLachlin and Judge Major said.
"This demonstrates that a monopoly is not necessary or even related to the provision of quality public health care."
However, in a blistering dissent, Mr. Justice Ian Binnie, Mr. Justice Louis LeBel and Mr. Justice Morris Fish derided the notion that a court can decide a time limit after which waiting lists for an MRI or a hip replacement are too long.
"It is to be hoped that we will know it when we see it," they said. "It will be very difficult for those designing and implementing a health plan to predict when judges will think its provisions cross the line from what is 'reasonable' into the forbidden territory of what is 'unreasonable.' They said it is foolhardy for judges to attempt to resolve an issue that has been the subject of protracted debate in Quebec and across Canada through several provincial and federal elections.
The ruling was a victory for George Zeliotis and Dr. Jacques Chaoulli, who had argued that prohibiting private health insurance jeopardizes the well-being of people who desperately need treatment.
Mr. Zeliotis maintained that long waiting lists for medical services impaired his ability to obtain timely heart surgery and hip operations. Dr. Chaoulli has fought for years to obtain a licence to operate an independent private hospital.
Madam Justice Marie Deschamps, whose vote swung the majority ruling, decided the case only under the Quebec Charter of Rights. However, she was every bit as impatient with government inaction on waiting lists.