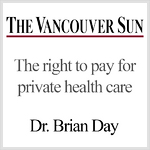 The right to pay for private health care
Jul 23, 2012
The Vancouver Sun
B.C. residents, faced with daunting waiting times, would benefit greatly from a public-private medical system
"Administrators maintain waiting lists on purpose, the way airlines overbook. As for urgent patients on the list who are in pain, the public system will decide when their pain requires care. These are societal decisions. The individual is not able to decide rationally." — Dr. Charles Wright, current member of the Health Council of Canada and a former vice-president at Vancouver General Hospital, quoted in a Reader's Digest article.
"Private clinics illegally billing patients," said the eye-catching front-page headline in The Vancouver Sun on July 19. We intend to show that a headline reading "B.C. Medical Services Commission illegally condemning patients to suffer on waiting lists" might have been a more accurate depiction of reality.
Few B.C. residents are aware of what the commission is supposed to do. Its main mandate, as declared on the first page of its website, is "to facilitate reasonable access throughout B.C. to quality medical care, health care and diagnostic facility services for B.C. residents under MSP [the Medical Services Plan]." Ask any of the hundreds of thousands of patients on waiting lists if they think that mandate is being fulfilled.
About 50,000 patients a year access the 60 or more private clinics in B.C. Let the commission bureaucrats explain how access will improve if private clinics cease to operate and those patients are added to existing queues for care.
British Columbia has a health scheme overseen by a bureaucracy that consumes health funds that should instead be directed into patient care. Our country has one health bureaucrat for every 1,400 citizens, while Germany (which spends less than Canada and has a hybrid public-private system without waiting lists) has one for every 15,000.
Health care dollars were wasted by the commission to uncover data that was freely available in the public domain. We have never denied that we allow patients the choice and freedom to spend their own after-tax dollars in order to alleviate their pain and suffering. We are aware that this embarrasses those who fear competition and accountability.
Five of the eight components of the 1961 Saskatchewan Insurance Act became the template for the 1984 Canada Health Act and were later enacted into the B.C. Medicare Protection Act. The three excluded principles were "efficient, effective and responsible." This likely explains why medicare has become inefficient, ineffective and irresponsible. B.C. residents today find themselves in a health system that:
1. Operates on the principle of rationing.
2. Condemns patients to suffer, deteriorate and sometimes die on waiting lists.
3. Denies citizens their constitutional rights to protect themselves from harm.
4. Ranks 23rd in quality and last in value compared to 30 countries with universal care.
5. Results in the poorest in Canada suffering from the worst access and worst health outcomes of all.
Many European social democracies offer universal care and rapid access without waiting lists. It is time to embrace their principles of choice and competition.
Health care already benefits greatly from private-sector philanthropists who fund buildings, research centres and equipment. Private capital is also provided through funds raised from telethons, lotteries, bingo halls and casinos. It's time that individuals were granted the freedom to spend their own after-tax dollars on the health care of themselves and their loved ones — a freedom enjoyed by citizens in every one of the 196 countries on Earth.
In the most recent poll on this issue (Ipsos Reid, conducted June 20-25), 76 per cent supported a hybrid public-private system. Canadians recognize that many countries offer universal care without the waiting that we experience.
We do not believe it is immoral, unethical or illegal to spend one's own after-tax dollars on one's health. Our clinics do not extra-bill, but we do charge patients for services not funded by government, such as accessing an operating room, because the government won't allow them into theirs.
Extra-billing accurately describes a process that is rampant in our public hospitals, and has been explicitly supported by the commission. There are numerous examples. Prostate cancer patients wishing to have less invasive (robotic-assisted) procedures are billed thousands of dollars. Patients undergoing certain types of joint replacements and cataract surgery have been extra-billed over many years. Our government extra-bills for ambulances, artificial limbs, braces, walking aids, drugs and many other services that doctors consider medically necessary.
The commission itself has specifically authorized the extra-billing of patients undergoing foot and ankle surgery in public hospitals.
Some, such as WorkSafeBC patients, are exempted from the restrictions imposed by the commission and enjoy rapid access to care through a hybrid public-private partnership. The commission is fighting to deny others a similar freedom.
Within the next few weeks, patients who have suffered under our health system will join us in our constitutional challenge. We will go to the Supreme Court of Canada with a simple question: Should B.C. patients who suffer, and sometimes die, while waiting for care be granted the same protection under the Canadian Charter of Rights and Freedoms that the Supreme Court of Canada has granted to the citizens of Quebec?
Dr. Brian Day is an orthopedic surgeon, president and CEO of Cambie Surgeries Corp. and a past president of the Canadian Medical Association.