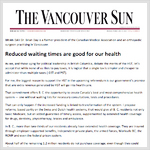 Reduced waiting times are good for our health
Feb 25, 2011
Vancouver Sun
As we, and those vying for political leadership in British Columbia, debate the merits of the HST, let's accept that while none of us likes to pay taxes, it is logical that a single tax is simpler and cheaper to administer than multiple taxes (GST and PST).
For me, the biggest reason to support the HST in the upcoming referendum is our government's promise that any extra revenue generated by HST will go into health care.
That commitment offers B.C. the opportunity to create Canada's best and most comprehensive health system -one without waiting lists for necessary consultations, tests and procedures.
That can only happen if the increased funding is linked to transformation of the system. I propose reforms, based partly on the Swiss and Dutch health systems, that would give all B.C. residents not only basic Medicare, but an added guarantee of timely access, supplemented by extended health coverage for drugs, dentistry, physiotherapy, braces and ambulance.
In B.C., more than two-thirds of our residents already have extended health coverage. They are insured through employer-supported benefits, independent private plans, the armed forces, Worksafe BC, the RCMP and even the federal prison system.
About half of the remaining 1.2 million residents do not purchase coverage, even though they could afford to.
Under the proposed plan, they would be compelled to insure themselves in a manner analogous to the current requirement for MSP coverage (or car insurance).
The remaining 600,000 individuals -about 200,000 families -cannot presently afford to buy extended health insurance. In our current system, they are underinsured, underprivileged and have unequal access to health care. Under the suggested plan, their premiums would be funded by government at an estimated annual cost per family of $125 a month.
This would total about $300 million a year (two per cent of B.C.'s annual health budget). As a condition of participation, the health-insurance companies will not be able to turn down high-risk applicants, nor charge higher premiums based on risk. As a benefit, they will get over one million new policy holders.
All extended insurance plans would be expanded to include a care guarantee for patients who wait longer than 90 days for a "medically necessary" investigation or procedure. After that time, the plan would cover care up to a prescribed annual maximum of $5,000.
Patients could choose where to go (in or out of province, public or private). A similar care guarantee has been proposed previously by the Kirby Senate Committee and the Canadian Medical Association. It has been a vital component linked to patient-focused funding in England.
Under this scheme, B.C. would have by far the best health system in Canada. It would be truly comprehensive, universal, accessible and portable.
The increased funding from the HST, supplemented by the large additional infusion of private capital into the health system, would slow the relentless and unsustainable rise in health spending by governments.
Time spent suffering and waiting for treatment robs the economy of workers, both patients and caregivers.
A Canadian Medical Association study on the cost of waiting times in Canada revealed that the cumulative economic cost, in the short term, of waiting for treatment across just four areas -joint replacement surgery and MRIs for instance -in 2007 was $14.8 billion. The health and timely treatment of Canadians is not only important in itself, but should be a key priority in the overall economic strategy of governments.
The lack of timely treatment in Canada explains why studies that compared our health system with those of 29 European countries with universal care placed Canada last in value for money. (We were close to the top in overall spending.)
Dr. Brian Day is a former president of the Canadian Medical Association and an orthopedic surgeon practising in Vancouver.