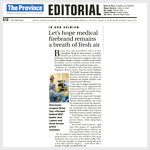 Editorial: IN OUR OPINION
Jun 19, 2007
The Province
Let's hope medical firebrand remains a breath of fresh air

Brian Day, the president-elect of the Canadian Medical Association, is widely known as a fierce critic of Canadian medicare. And the Vancouver surgeon, who runs the Cambie Surgery Centre, is clearly no favourite of public-sector health unions and other staunch defenders of the medical status quo.

Indeed, as CanWest News Service reporter Margaret Munro notes, Day has been dubbed "Dr. Profit" because of his tireless advocacy for the role he believes private medicine can play in making our public health-care system more efficient.

Day, who in August assumes the leadership of an organization representing 62,000 doctors across Canada, has rarely been one to pull his punches.

It had been expected, though, that the nearer he got to assuming the CMA presidency, the more he would tone down his rhetoric.

But in a hard-hitting speech over the weekend, Day attacked both federal NDP leader Jack Layton and three former prime ministers -- Paul Martin, Jean Chretien and Joe Clark -- for railing against private clinics, while using them themselves.

"We need some honesty," said Day, who argues it's impossible for our politicians to deliver on their promises of free care for all.

We do, indeed, need more honesty. And it'll be interesting to see how the strident Day fares during his one-year term at the rather stuffy CMA.

In the end, though, we hope the result will seem a less like radical surgery -- and more like a breath of badly-needed fresh air.