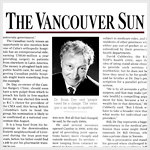 Doctors pick private-care pioneer
Feb 15, 2006
Vancouver Sun
By Pamela Fayerman
Vancouver Sun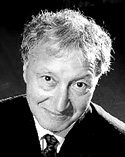 Dr. Brian Day said 'people voted for a change. The status quo is no longer acceptable.'
Private medicine pioneer Dr. Brian Day pulled off a stunning victory Tuesday when B.C. doctors elected him their nominee as 2007/08 president-elect of the 60,000-strong Canadian Medical Association, a powerful lobby organization with which Day has not been involved.
Day, the dark horse candidate, beat five other candidates, all of whom are past-presidents of the B.C. Medical Association and all of whom had worked on CMA committees. Under the CMA rules, provinces alternate in choosing a president-elect and the last time it was B.C.'s turn was 1997/98, when Dr. Victor Dirnfeld won the job.
Day's victory came on the day the provincial government announced it would seek public opinion about a further role for the private sector in health-care delivery, and it sends a strong message from B.C. doctors that they want to see system reform, especially the introduction of a European-style, parallel private-public health system, which Day has long advocated.
Day, an orthopedic surgeon who received his medical training in England, Switzerland and the U.S., is co-owner of Cambie Surgery Centre, a private hospital he and a group of doctor-investors built 10 years ago so they could do more surgery, after their operating room time was cut back because of hospital budget constraints.
Day savours politics as much as he does surgery and he has been involved in several encounters with politicians. Last summer his surgery centre was involved in a Supreme Court of Canada case in which the court declared patients should have the right to use private insurance to access medical care in the private system when care is not forthcoming in a timely manner in the public system.
Interviewed soon after being told by the B.C. Medical Association that he was the winner -- 1,393 votes to 1,226 for the closest contender, Dr. Jack Burak -- Day said:
"People voted for change. The status quo is no longer acceptable. I thought I had a good chance because doctors realize it is time for a change in the way health care is delivered and accessed.
"I feel for the other candidates, who have all been BCMA presidents and have done a lot more work for the association, but as far as I'm concerned, in a democratic election, I was the candidate that most doctors wanted and I am certainly not green when it comes to medical politics.
"I think I was elected because I am seen as the one who has the best chance to make a big difference, and timing is everything. Just look at what the provincial government announced in its throne speech today. We're at a point in the history and evolution of our health-care system where people want to see competition, not a monopoly."
When he declared his candidacy a month ago, Day acknowledged that while provincial nominees are usually confirmed, he might be challenged by delegates to the annual meeting in Charlottetown this summer. That's what happened a few years ago when the winner of an Ontario election lost to a candidate he had defeated provincially.
All B.C. doctors who are CMA members were eligible to vote.