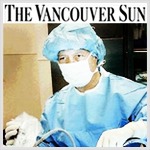 Body degenerates as patients wait
Jun 03, 2005
The Vancouver Sun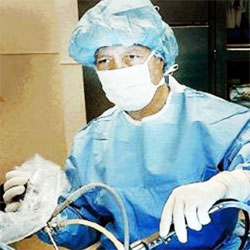 Dr. Brian Day performs surgery on the cartilage in Rock's knee.
Body degenerates as patients wait
"You don't waste time fixing the car, so why would you wait to fix your body," orthopedic surgeon says

Pamela Fayerman
Vancouver Sun

Friday, June 03, 2005

Jodi Rock needs a finely tuned body for her job, so when the White Rock personal trainer and pilates instructor tore some cartilage in her left knee, she sought a speedy surgical solution.

But swift surgical treatment, she learned soon enough, is often elusive in the public hospital system, unless it's a matter of life or death.

Just getting an appointment with a specialist, for example, took three months, and when she finally got to that point, she was advised a surgery date would be anywhere from eight to 14 months away.

Paying $3,500 for expedited arthroscopic (small incision) surgery at a private surgical centre isn't something she can easily afford, but neither could she afford not to do it.

"My livelihood depends on my body. I use it everyday, eight to 12 hours a day. If I had a desk job, then maybe I'd wait for surgery at the Peace Arch Hospital or Surrey Memorial, but instead,
I chose the private surgery route and I am thankful I can do that," said Rock, who had the surgery three weeks ago.

Although the Canada Health Act states that patients cannot be billed for insured, medically necessary treatment, private surgery clinics exist in a handful of provinces, and the federal government responds by slapping the wrist of provinces for allowing such clinics to exist by imposing fines against the provinces in the form of reductions in transfer payments. (B.C. was fined $72,000 last month for activities occurring in 2002-03.)

Rock, who was back to work the week after her surgery and is thrilled to be walking without a limp -- and without pain -- for the first time in eight months, said her own business paid for her surgery so that the enforcers of the Canada Health Act (the federal government) cannot accuse her doctor of billing her directly.

"Before we had this option, people would go to the United States for their surgery. Now we don't have to do that and the other benefit of such clinics is that I'm one less person on the surgical wait list, which hopefully means someone else is going to get their operation faster," Rock said.

Her family doctor referred her to Dr. Brian Day, the orthopedic surgeon who co-owns the nine-year-old Cambie Surgery Centre.

"My son had gone there a few years ago for dental surgery [under anesthetic], so I was familiar with the place and with Dr. Day's reputation. I have to say that even though it was surgery, the result is amazing and the experience was great. I checked in at 2 p.m. and was on my way home by 6, even though I had had general anesthesia," Rock said. Day said Rock was right not to wait for her surgery.

"What everyone forgets is that while patients wait months or years for surgery, their joints are eroding and their muscles are wasting away and their quality of life deteriorates because they can't play tennis or do whatever exercise and activities they normally do. It's like an engine with a loose part that wears down over time. You don't waste time fixing the car, so why would you wait to fix your body?" said Day, immediate past president of the Arthroscopy Association of North America, which recently held its annual meeting, attended by 1,000 delegates, in Vancouver.

Day, a much-in-demand international lecturer and surgery teacher who even went to Cuba last year to teach doctors there, built the Ash Street Cambie clinic in 1996, out of frustration with the public hospital system. Hospital budget constraints meant that he couldn't expect more than a day of operating room time at the University of B.C. Hospital, so he built his own $5-million, technologically advanced hospital, located a few minutes walk away from Vancouver Hospital, after rounding up 22 investors and obtaining a personal bank loan.

A few years ago, an expansion was completed, so now Day can boast that Cambie has six operating rooms -- one more than UBC Hospital.

Day has always maintained that private surgery centres would not exist if it were not for the long waits in the public system. But ingrained in the Canadian mentality is the expectation that medicare promises to be all things to all people, all of the time. And "Canadian politicians," he said, "are too afraid to sway the public away from this view."

With 50 full and part-time nurses and 125 doctors doing 5,000 operations and other procedures a year, including hundreds that the Vancouver Coastal Health Authority has contracted out to ease public hospital wait lists, the Cambie Surgery Centre is easily the biggest private hospital in the country, not to mention a threat to anti-privatization forces such as health care unions, which believe such centres are eroding the public system by stealing away doctors and nurses and by unfairly allowing those who can afford it to pay for expedited care.

Day doesn't buy any of that, and says Canada's medicare system is so outmoded that the only other country preserving the public monopoly by trying to outlaw a private, parallel system is North Korea.

He used to put Cuba in the same company, but since his teaching experience there, Day has learned that even in that communist country, patients can pay for expedited surgery.

"They allow private care and use the profits from treating Latin Americans and others to support their own citizens' health care. That's how they eliminated wait lists for surgery," Day says.