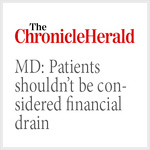 MD: Patients shouldn't be considered financial drain
Apr 21, 2008
The Chronicle-Herald
Patients should be put at the centre of the health-care system, not considered a drain on finances, the head of the Canadian Medical Association says.
That could be done by fostering competition between health facilities, but without handing care over to private providers, said Vancouver orthopedic surgeon Dr. Brian Day, whose election to the Canadian Medical Association presidency was controversial because he operates a private surgical clinic.
"I think the days of governments just pouring money into the system without a requirement of productivity - that was a failed strategy," he told the editorial board of The Chronicle Herald Friday.
Dr. Day said when a hospital or health district is provided a block of operational funding once a year, it has no incentive to be efficient.
In fact, performing more surgeries could be seen as costing a hospital money and resources are rationed, leading to long waits for treatment.
In January, a Canadian Medical Association report said long waits for four types of surgery drained $14.8 billion from the economy last year.
It said Nova Scotia loses $3,535 in tax revenues a year for each incapacitated person waiting for longer than acceptable standards for orthopedic surgery.
In December, Capital district health authority officials reported there were 3,700 people waiting for orthopedic surgery in the area. The average wait time is about 18 months, well above the 90-day medically acceptable benchmark.
"We're actually in this perverse position of paying to keep people on wait lists," he said.
Those people often require drugs and physiotherapy while they wait and their health declines, Dr. Day said.
"Their muscles are wasting, their joints are getting stiffer, they might fall down and break something," he said. "And then when they do get their surgery a year or sometimes two years later their results are not as good; they take longer to rehab. This is silly."
Dr. Day said Canada is one of the last developed countries to adopt a system he calls "patient-focused funding."
A model adopted in the United Kingdom saw medical services assigned a value and patients free to choose where they went for care. The government has made a guarantee that by December of this year, no patient will wait more than 18 weeks between their first visit with a general practitioner and when they receive treatment.
Dr. Day said this system encourages hospitals to be efficient, provide high quality care and tackle problems like in-hospital infections in order to attract patients.
He said the country is well on its way to meeting that wait time guarantee.
British Columbia announced a pilot project to test a patient-focused funding system earlier this year.
Critics say the U.K. experience hasn't been a total success, noting the proportion of the health budget spent on administration increased as hospitals were forced to track costs meticulously and devote more time to paperwork.
Dr. Day said there is an initial cost to clear the existing queues, but the return on investment is huge. And the quick turnaround should be appealing for a political leader with vision who wants to see the results of a policy change within a single mandate.
He said the Nova Scotia government's recent move to pay for 500 minor orthopedic surgeries at a private Dartmouth clinic is an example of patient-focused funding that could be duplicated in other parts of the health-care system.
Dr. Day said the public/private distinction is an arbitrary one that clouds debate: drugs and ambulance services are medically necessary, but privately purchased in Canada.
Doctors Nova Scotia president Dr. Don Pugsley said that as a family physician, he's been providing private care for 30 years.
But he said politicians concerned about electability, will not engage in real debate on health care.
"In the Canadian model, and in the Nova Scotia model, if all of the political parties are only speaking to their own constituency, how can we move ahead?" Dr. Puglsey said. "Where we have three parties that are relatively equal, we're going to be in a situation of constant two against one."