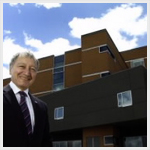 Health care broken, says top doctor
May 24, 2008
The Peterborough Examiner
CMA chief says system needs major surgery
By JAMES NEELEY
The president of the Canadian Medical Association says Canada's health care system is outdated and needs a complete overhaul.
"We're running the biggest business in our economy - $160 billion," said Dr. Brian Day. "But there is no incentive for hospitals to provide the latest and greatest care because more patients equal more cost."
Canadian hospitals are block funded, Day said, explaining the government gives them a lump sum each year and they must operate under budget.
"Every patient that goes to the hospital, and every doctor or nurse working in the hospital, is using up the hospital's money," Day said, meaning it is financially beneficial for hospitals to treat fewer patients.
He calls this "rationing" of health care.
This is also contributing to pushing about 1,500 Canadian medical students to foreign soil, he said, because they are not getting a chance to work in Canadian hospitals.
Day said he is pushing for a patient-focused health system that would empower patients and improve access.
"In a patient-focused funding system the money follows the patient," he said. "And the patient is a value not a cost."
Under this program each patient is given a value based on the procedure required, Day said.
A patient needing a hip replacement may be worth $7,000. When that patient walks into a facility -any hospital they choose - the money follows them.
"It introduces competition in hospitals that empowers the consumer," Day said.
"And it gives hospitals flexibility to design programs and services," he said, explaining the public will drive health care dollars.
The plan is similar to the one employed in the education system, by which schools receives funding based on the number of students.
The system is used in several countries throughout Europe including one which provides a great model for Canada to follow - the same system our current universal health care system is based on - Britain, Day said.
The United Kingdom switched to a patient-funded system in 2004 eliminating the wait list and turning health care into a profit-generating industry, he said.
The "medical tourism" industry will be worth an estimated $80 billion worldwide this year, he said.
"There are 300,000 Canadians per year who leave Canada for surgery because of the wait list," Day said.
If the wait list is eliminated, something he believes could be achieved quickly under a patient-funded system, there are hundreds of thousands of Americans looking for a good price on surgery.
The systemic change would come at a significant "upfront cost," Day said, with one million Canadians on wait lists
"But the government needs to see it as an investment," he said.