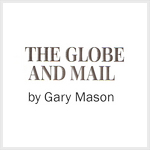 Globe and Mail Article
Aug 21, 2008
Globe and Mail
Gary Mason

In his farewell address to the annual convention of the Canadian Medical Association, outgoing president Brian Day recalled one of the more unforgettable moments during his year in office.
He was on his way to Saint John to give a speech. The weather was so bad the pilot had to abort his first attempt to land in New Brunswick. He circled a few times and tried a second time. No luck.
The pilot went on the air to inform his nervous passengers that they were going to have to return to Montreal. The weather was just too bad to land in Saint John.
Air-sickness bags were returned to their seat pouches.
But then, minutes later, the pilot returned to the airwaves. As it turned out, the plane didn't have enough fuel to get back to Montreal. They were going to try to land in Saint John.
Air-sickness bags were removed from their seat pouches.
"A little scary," Vancouver-based Dr. Day told convention delegates of the flight that did touch down in Saint John on its third attempt.
A little scary, you may recall, is how many people viewed Dr. Day as he prepared to take over at the CMA a year ago. He was the controversial owner of a private medical clinic in Vancouver, in favour of privatizing health care in Canada. At least, that's what his detractors wanted the public to believe.
It was a lie. What he believed was that the current medical system was economically unsustainable, in part because it was horribly inefficient. Those inefficiencies, in turn, had created systemic problems like waiting lists.
To address the issue, Dr. Day felt we needed to introduce some fundamental business principles to the administration of health care.
As it turns out, that will likely be his greatest legacy as CMA president: getting governments to consider moving from a block funding approach to health care to a patient-focused regime where hospitals get financed according to the number of procedures they perform and not on what they have historically received.
B.C. has already begun to introduce this model of health-care delivery on a pilot-project basis. Quebec will be the next to test it. Other provinces are carefully watching developments and will likely jump in over the next few years. Dr. Day is confident the change will create healthy competition among medical facilities, eventually forcing them to become more efficient.
The more efficient they are, the more operations done at them, the more funding they get. So, in theory anyway, hospitals have the incentive to streamline procedures, which could reduce bottlenecks that create waiting lists.
This could be a major breakthrough in the way health care is delivered in Canada. And the fact it's being discussed at all is primarily because of Dr. Day, not because of inspired leadership from federal or provincial politicians.
On that front, it has to be said that the Conservative federal government has largely run away from the responsibility it has to address the many mounting health-care issues in Canada. Currently, the only one they seem to care about is Insite - the supervised-injection site in Vancouver - and for purely ideological reasons. The many documented health benefits of Insite are irrelevant to the debate. Instead, the Tories prefer to play to the narrow-minded biases of their most redneck supporters.
And for now that passes for a national discussion on health care.
Thankfully, many doctors are refusing to allow that to continue. Thanks to Dr. Day and others, the CMA has moved into an activist mode. While our politicians muddle along, our doctors are agitating for change. Better than anyone, they understand the status quo is helping drop Canada to the bottom half of many international health-care rankings.
The CMA is developing a blueprint and timeline for change that will, among other things, help bring about patient-focused care across the country. In other words, it is doing the work that our politicians should be doing.
Dr. Day's successor, meantime, is a passionate advocate of an expanded role for private clinics in the public health-care system. In Robert Ouellet, the CMA has elected someone who promises to be equally as outspoken as the last guy in the job.
Dr. Day told delegates in Montreal that Canada's health system can be the best in the world. But it needs to be changed in a way that puts patients ahead of politics.
"I am more than optimistic - in fact, I am absolutely confident - that the momentum for change has not only begun but is unstoppable," he said.
If true, in large part it's because of him.