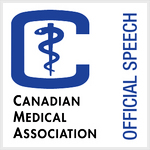 Address to the Annual Meeting
Jun 28, 2008
Newfoundland and Labrador Medical Association
Dr. Brian Day
President
Canadian Medical Association
Corner Brook, NL
Ladies and Gentlemen.
It is my pleasure to be here in Newfoundland.
It has been an honour to travel across Canada these past 10 months to represent the profession. My year has been active and productive, with over 300 media interviews, many, many meetings, and over 20 editorial board visits eliciting over 40 editorials.
I have engaged our colleagues, the public and the media in positive and rewarding dialogue.
Across the nation, government health policies are changing and we, the doctors of Canada, are helping to lead that change.
Today I would like to discuss some examples of how the growing momentum for change is overcoming system inertia.
Our goal for our health system must be nothing less than number one in the world.
Instead of a system that serves patients, we in Canada have forced patients - and health workers - to serve the system. This must change.
At the CMA's Taming of the Queue conference 2 months ago, we sat in silence as an emergency doctor described how in 1 day in his emergency waiting room 4 patients died without even being seen by a staff member.
That same week, a BC general surgeon described how he had to cancel surgery on 6 breast cancer patients in one month. Sadly, such events are not rare in Canada.
Let us be very clear on the reality that our failure to provide timely access comes with a major cost, both medically and financially.
This year the CMA released research showing, in addition to the human health cost and suffering, patients waiting for care in just four priority areas targeted in the 2004 First Ministers Health Accord, cost the Canadian economy 14.8 billion dollars in 2007.
The estimates in this study excluded the growing, and significant costs of waiting to see the GP or specialist, and excluded the cost of deterioration as patients wait, and sometimes develop chronic and severe irreversible damage, addiction to painkillers, and depression.
In February, a report estimated the economic cost of mental health in Canada to be a staggering $51 billion, equal to almost a third of Canada's total spending on health care. That's $51B that, if saved and invested in the health system, could provide huge benefits, not just in acute care, but in health promotion, rural health, chronic care, and mental health. The savings achieved through the elimination rationing and the costs caused by waiting for care would be enourmous.
We are paying to prevent patients getting better. The prevention of patients getting better is not what doctors mean when we talk about preventative medicine.
A study released this year by the European-based Health Consumer Powerhouse, comparing Canada's health system to 29 European countries, ranked us 23rd overall - alongside countries such as Slovenia, Romania, and Lithuania. We came in last - 30 out of 30 -in terms of value for money.
Many countries have universal care, no wait lists, and cost the same or less to run as ours does. Wait lists can and must be eliminated in Canada.
The momentum to do just that is growing around a movement to empower patients and to shift the focus to patient care.
But, change demands action and leadership.
We must begin by eliminating block funding or global budgets of institutions, in favour of patient-focused funding.
This idea is supported by the Castonguay Task Force in Quebec. And by Senator Kirby. By New Brunswick. By BC. By the OECD and by the CMA.
Building incentives to treat patients will stimulate healthy competition.
Patient focused funding increases productivity and reduces wait lists, even in primarily government operated systems - and especially in rural hospitals.
While Canadian governments maintain a system that leaves their citizens without proper access to care, in the past 4 years the English have introduced innovations and reforms that have achieved spectacular reductions in waiting lists.
In just 4 years hospital waiting lists in England have plummeted and 90% of patients are receiving treatment in less than 3 months.
They did it by changing to patient focused funding, and by setting other performance targets that hospital CEO's had to achieve in order to keep their jobs.
The CMA's current "More Doctors, More Care" campaign is designed to spur action by our politicians. We want a patient-focused system that is accountable, effective, efficient and sustainable.
Such a system can't exist without enough doctors. We currently rank 24th in the world in the number of doctors per population. In 1970, we were 4th.
Two months ago, I spoke in Washington DC, to a group of physician leaders and US politicians. Let no one be misled. The next US President, whether it be Obama or McCain, has promised to address the 47 million uninsured there.
As the 47 million gain insurance and access to physicians, recruitment efforts aimed at Canadian doctors could induce another mass exodus similar to what we witnessed in the 1990s.
Fifteen hundred young Canadians are going to medical school in foreign countries. These are "A" students, Canadians, who have been forced to leave the country for their medical training.
In the short term, we need to encourage them to return (most don't), but in the long term, we need to expand capacity and create new medical schools.
As we look to the future and a truly patient-focused health care system, the role of technology cannot and must not be ignored.
The CMA considers IT to be a cornerstone to building a truly patient-focused health care system for the 21st century.
A few months ago, the CMA launched the first-ever made in Canada personal health record that lets patients communicate securely with their physician.
This personal health record operates through the mydoctor.ca portal, and represents a giant leap forward in the use of technology allowing that will help improve the management of chronic disease in Canada. It attests to the vision of our organization that major US software giants are embracing similar initiatives.
Despite having founded Canada's first private center of its type in 1996, and despite my philosophical support of a role for the private sector, there is no infrastructure of private hospitals in Canada and we cannot look to them for an early solution to Canada's problems.
Yet, successful partnerships with the private sector have helped shorten wait lists in many key areas, but more work and more cooperation is needed.
The fact is, that the private sector props up our health system now. Philanthropic efforts fund many, many, capital projects in health care in Canada. Not to mention the private contributions made by the 80,000 charities that are, for the most part, not even accounted for when we calculate health costs in Canada.
When I gave a talk at the Empire Club in Toronto some months ago, the Registered Nurses' Association of Ontario held a conference to denounce the content of my speech - 2 hours before the speech, and before they knew what I was going to say!
In so doing, they denounced private insurance. They had no response to the observation that their website advertised multiple levels of private health insurance for themselves and their members! In fact, 70% of Canadians have private insurance that covers many medically necessary services such as ambulance services or crutches, and drugs.
The private-public rhetoric on health care, the result of tedious and tiresome propaganda, undermines Canadian health policy.
Our patients are counting on us to keep health care at the top of the political agenda, here in Newfoundland and Labrador, and across the country.
The CMA and the NLMA are committed to a better health system - for doctors and their patients - and I want to acknowledge and thank my colleagues from Newfoundland and Labrador for their work in pressing the cause.
Right now across Canada too few physicians are working too hard to overcome too many system shortcomings. Doctors cannot be scapegoats for failures of the system to care for patients.
I especially want to thank Dr. John Haggie, Dr. Susan King and Dr. Joe Tumilty and other committed colleagues from Newfoundland and Labrador who serve on our CMA boards, councils and committees.
As your association confronts difficult situations, such as with the ongoing commission of inquiry on hormone receptor testing, the CMA is committed and dedicated to providing all of the support and help you need.
I know that efforts such as the current governance review project that will be considered at GC in August will continue to bolster that relationship and improve responsiveness and representation at CMA.
Conclusion
So, in conclusion, let me thank you again for the opportunity to serve on your behalf as CMA President.
I believe we can overhaul our health care system and develop one can deliver efficient, effective, universally accessible health care that is second to none.
I am also optimistic that governments see the merits of eliminating inappropriate wait lists in Canada. Other countries have achieved this, and are reaping the benefits.
Our Canadian health system is spinning in a vicious circle, whereby rationing of services leads to limited access, reductions in workforce, limited investment in technology, long wait lists that negatively impact the economy, resulting in funding pressures that force rationing - so completing the "circle". Patient focused funding can break this vicious circle.
We cannot continue to dismiss the repeated international studies that show Canada is performing poorly. They can't all be wrong!
Our goal must be to build a patient focused health care system that is the best health in the world - second to none.
Universal care and excellent access can coexist.
At this pivotal moment in Canadian medical history, it is up to us to seize the moment, and to lead the necessary change. We're up to the challenge.
Thank you.