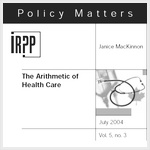 More Arithmetic of Health Care by Janice MacKinnon
Jul 01, 2004
Policy Matters
Janice MacKinnon
Professor, University of Saskatchewan, Saskatoon, Sask.
The Conference Board of Canada study[1] that I referred to in my commentary[2] compared 24 OECD countries, rather than all 30, and Canada was third in overall spending on health care in that comparison. My arithmetic on Ontario's health care spending — an average annual increase of 8% per year for the last 5 years — is based on information published by the province's finance department.[3] If constant dollars are used for health care spending, then government revenue has to be stated in comparable dollars. The result would be the same: in the last 5 years Ontario's health care costs have increased by 42% while revenue has grown by only 31%, a gap that is not sustainable.
Measuring health care costs relative to GDP omits key costs, such as the debts of hospitals and health boards, and the cost of replacing outdated equipment and facilities — about $10 billion in Ontario alone. Also, government revenue does not increase at the same pace as the economy grows and is projected to decline relative to GDP in the next 20 years.[4]
Even left-wing provincial governments have reduced corporate and income taxes to compete in attracting investment and highly educated people. Raising taxes is no panacea and could undermine the economic growth that generates revenue for health care.
What does rhetoric like "privatization" and "taxing the sick" mean? Our health care system is already a mix of public and private: Are doctors public servants or private practitioners? People already pay directly for some health care services. Why not debate what should be paid for, why and how?
Just as governments could not consistently spend more than they collected in revenue in the 1990s, health care costs cannot increase indefinitely at a faster rate than government revenue. Also, such increases are crowding out spending on education, the environment and poverty reduction, key factors in promoting a healthy population.
References
Understanding health care cost drivers and escalators. Ottawa: Conference Board of Canada; 2004.


MacKinnon JC. The arithmetic of health care [editorial]. CMAJ 2004;171(6):603-4.[CrossRef][Medline]


Annual report and consolidated financial statements, 2002-03. Toronto: Ontario Ministry of Finance; 2003.


MacKinnon J. The arithmetic of health care. Policy Matters 2004;5(3):1-28. Available: www.irpp.org/fasttrak/index.htm (accessed 2005 Feb 2).