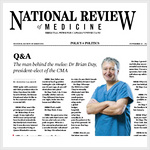 The man behind the melee: Dr Brian Day, president-elect of the CMA
Nov 15, 2006
National Review of Medicine
The man behind the melee: Dr Brian Day, president-elect of the CMA
By Jennifer Laliberté
NRM
spoke with controversial CMA president-elect Dr Brian Day about his childhood in Britain, his famous friends and what it's like to be the country's most controversial MD.
NRM:
What was it like growing up in Liverpool?
Dr Brian Day:
It was rough. It was right after WWII and Liverpool had been bombed extensively. My family had a hard time. But it was also very interesting. I remember being at Queen Elizabeth's coronation — I was five or six. I remember the Suez Crisis because we thought there'd be another war. And of course The Beatles.
NRM:
Speaking of the Fab Four, who's your favourite Beatle?
Dr Day:
Paul McCartney. I always thought he was the most talented. They were four years ahead of me in school, but I was often on the bus with them.
NRM:
Did you always want to be a doctor?
Dr Day:
My father was a pharmacist so that's what I wanted to do at first. I used to help him in the shop and we would meet all the doctors. We decided that medicine would be more interesting.
NRM:
Your father was murdered by drug addicts looking for a fix. Although it was 20 years ago, do you still think about him often?
Dr Day:
Yeah, I do. It was actually a father and son. They followed him home one night, broke into the house and killed him.
NRM:
That's awful.
Dr Day:
Yeah, it was.
NRM:
You spent some time in Cuba with Fidel Castro and his son, who's also an orthopedic surgeon. What do a free-enterprise physician and a socialist dictator talk about?
Dr Day:
We talked about health policy and education. Castro is remarkably knowledgeable about medicine. Obviously our politics are not close, but he's a very warm and charismatic individual. Know how he eliminated waiting lists in Cuba? He got a letter from an elderly patient, saying he was in a lot of pain and needed a hip replacement but there was a year's wait. So Castro called all the important people into one big auditorium and gave a five-hour speech. He said he'd call them all back again in a year and that there would be 'consequences' if patients were still waiting. He didn't even have to bring them back.
NRM:
Your native Britain has a blended private-public system, but the NHS is now in crisis. Do you think Canada should follow Britain's lead?
Dr Day:
Who says the NHS is in crisis? They've virtually eliminated wait lists with a pay-by-result system. Instead of operating under a global budget, hospitals get paid for what they actually do. It puts the patient at the top of the pyramid. I'd love to see that happen here.
NRM:
How do you feel about your nickname "Dr Profit"?
Dr Day:
I prefer it to Dr Loser. But you know, I co-own Cambie Surgery with 42 other shareholders. We opened it because we couldn't operate on our patients, not to make money.
NRM:
Your wife's a public healthcare FP. What's it like living a public-private partnership?
Dr Day:
We have four children under 11, so she's out of it for a couple of years. But she is an FP doing what they all do. The problem is the public doesn't understand that FPs are running a business, they're renting their own building, paying their own staff, and they have to make a profit in order to survive. They're publicly funded private practitioners.
NRM:
What do you do to unwind?
Dr Day:
I go and watch my kids play soccer. It's so stressful and relaxing at the same time. I'm not a quiet spectator, but I only really yell when my wife's not there.
NRM:
Where'd you go on your last holiday?
Dr Day:
(Laughs) PEI?
NRM:
I'm not sure the CMA meeting qualifies as a vacation....
Dr Day:
We took the family to Mexico last January.
NRM:
What's the last book you read?
Dr Day:
The Da Vinci Code. But it was too long and I already knew the ending.
NRM:
Be honest: could you take Jack Burak in a fight?
Dr Day:
Oh, I wouldn't fight Jack! I don't think he should have done what he did, but he had the right to.
NRM:
Were you surprised by the brouhaha surrounding the election?
Dr Day:
A bit. I didn't like that the media tried to turn it into a referendum on public vs private healthcare, which it wasn't.
NRM:
What's your #1 goal for your first six months as head of the CMA?
Dr Day:
I'd like to see wait lists drop and some improvement in all the areas that are in crisis — mental health, rural, aboriginal and children's health. I think the CMA can really influence governments in those areas. But you know, being at the head of the CMA is not like being Fidel Castro.!