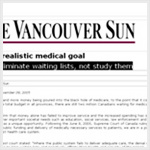 Let's eliminate waiting lists, not study them - Brian Day
Nov 09, 2005
The Vancouver Sun

It's a realistic medical goal
Let's eliminate waiting lists, not study them
Brian Day
Special to the Sun
Despite more and more money being poured into the black hole of medicare, to the point that it consumes almost 45 per cent of the total budget in all provinces, there are still two million Canadians waiting for medically necessary care.
Statistics confirm that money alone has failed to improve service and the increased spending has occurred at the expense of other important societal needs such as education, social services, law enforcement and the environment. Canada now has a unique opportunity. Following the June 8, 2005, Supreme Court of Canada ruling that broke the monopoly on public funding and delivery of medically necessary services to patients, we are in a position to design the world's best health care system.
Canada's highest court stated: "Where the public system fails to deliver adequate care, the denial of private insurance subjects people to long waiting lists and negatively affects their health and security of the person. The government contends that this is necessary in order to preserve the public health system. The evidence, however, belies that contention." We must not forget that this ruling came from the same court that legalized abortion and gave prisoners the right to vote -- actions few would label as consistent with right-wing sentiments. Following a requested delay of implementation, the Quebec government is now poised to introduce revised health law that conforms to this decision within the next few months. Few deny that our health system needs restructuring. We are ranked 30th in the world by the World Health organization, but are one of the three or four most expensive. We must learn from experiences in other countries and use that knowledge to implement change. It is unlikely to be a coincidence that all 29 countries that outperform us have public health care supplemented by a complementary private system.
There has been much talk of the $4-billion annual funding increase agreed to in the first ministers' accord on national health reform. This is supposed to "fix health care for a generation." The money is contingent on achieving benchmarks in "five key areas" by the end of this year. We are waiting to find out how long governments think patients on waiting lists should wait. Canadians should no longer accept medically inappropriate waiting periods for any investigations or treatment. We should eliminate waiting lists, not study them. Canadians deserve the same standards of care and access seen in many countries, such as France, Belgium and Germany that have no waits. This goal is realistic and has in fact been achieved here in Canada, albeit for select groups such as injured workers.
The Workers' Compensation Board of B.C. has saved hundreds of millions of dollars, and has reduced suffering and disability levels in injured workers as a result of mixed public-private delivery of services. Based on experience in other countries, the biggest beneficiaries of new private funding could be our public hospitals, which will be positioned to pursue new entrepreneurial activities. When teaching at the orthopedic hospital in Havana last year, I learned that the 100 bed facility generated $20 million US a year treating Latin American private patients. The revenue is used to fund care for Cuban citizens.
A newly formed non-profit society, the Canadian Independent Medical Clinics Association, will present a forum in Vancouver on Friday and Saturday, at which international and Canadian speakers and delegates will meet to develop a blueprint for reform. Our goal is to develop a restructuring plan that combines the best of what our system offers with the most successful ideas we can borrow and incorporate from other models. Having the 30th-best system in the world is not good enough. We can and will do better.
Dr. Brian Day, who operates the Cambie Surgery Centre in Vancouver, is president of the Canadian Independent Medical Clinics Association.