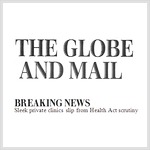 Sleek private clinics slip from Health Act scrutiny
Jul 12, 2004
Globe and Mail
Vancouver - With its spacious waiting room, wide corridors, gleaming wood floors and the latest in high-tech operating rooms, the Cambie Surgery Centre whispers wealth from every corner.
Brian Day, the centre's resolute 57-year-old medical director, says his sleek private facility is flush enough to finance a multimillion-dollar expansion that doubled its operating capacity from three rooms to six.
This is no sprawling public hospital like Vancouver General Hospital a few blocks away, where, according to Dr. Day, rats can be seen running underneath "the derelict buildings."
Much of the Cambie Centre's income comes from privately paid-for procedures that seem to fly in the face of the Canada Health Act.
And with premiers due to meet later this month to discuss a common front on their fight with Ottawa for control of the health-care agenda, the role of private facilities such as the Cambie Centre is coming under fierce scrutiny.
A growing number of patients are bypassing long waiting lists at public hospitals to have surgery done here. The centre charges set fees for these operations, including profit margins of about 30 per cent.
Under the Canada Health Act, however, this is not supposed to happen. With few exceptions, the act does not permit private payment for services that would otherwise be covered by medicare. No buying one's way to the head of the queue.
Yet so far, no one has said boo about what goes on at Dr. Day's facility, even after a bruising election campaign in which all three major parties vowed to quash the slightest hint of two-tier, for-profit medicine creeping into Canadian medicare.
Dr. Day is a passionate advocate of two-tier health care, with parallel public and private systems, provided all Canadians are covered by some form of health insurance. Competition, he vows, will wipe out waiting lists in Canada as it has in Europe.
He is one of a number of private-clinic operators to intervene in last month's landmark case at the Supreme Court of Canada that challenged the Canada Health Act's ban on patients purchasing their own health care.
Dr. Day said about 3 per cent to 5 per cent of the centre's business comes from patients wanting speedy, privately funded operations without having to wait in the public system.
They do so by taking advantage of a perceived legal loophole. While the Canada Health Act prevents patients from paying for their own medically necessary care, Dr. Day believes the act does permit third parties to pay.
He referred to a young elite soccer player whose lucrative scholarship to a United States university was jeopardized by a knee injury.
The public system could not do the prescribed operation quickly enough, so she was operated on at the Cambie Surgery Centre, Dr. Day said. A family member picked up the tab. Another patient, diagnosed with a malignancy in both breasts, decided not to wait the eight weeks doctors told her it would take for an operation to remove them.
She came here, and a relative paid for it," Dr. Day said. "She did not want to go to bed every night thinking that maybe the cancer was spreading."
Despite this apparent flouting of the Canada Health Act, neither the B.C. nor federal government have tried to stop it.
"We believe we are within the law for one simple reason," Dr. Day said. "It is clearly unconstitutional for any government to promise to deliver health care, fail to deliver it, and then take legal action to stop you from getting it yourself when they fail to deliver it. Let's go to court and fight that battle. Of course, governments don't want to do that."
Dr. Day said patients who opt for privately funded operations are usually not rich.
"The wealthy have always gone to the United States," he said. "These are people who decide: 'I want to keep playing hockey and I'm going to spend $2,000 on my knee operation instead of going on vacation.' Those are the kinds of people that we typically see. It's happening more and more."
At the same time, another Canada Health Act anomaly provides nearly half the centre's yearly patient load (about 3,500).
These patients are injured workers who need surgery. Their operations are paid for by the Workers' Compensation Board. A fee goes to the surgeon for each procedure and a second fee goes to the centre, which provides nurses and operating time.
"Eighty per cent of injured workers in B.C. that need surgery are treated in under 20 days. It puts unions on the spot," Dr. Day said.
"They are against us in theory and principle, but in practice, they see their members getting treatment. Why can't the rest of the population have the same privilege?"
In his final report, former federal medicare commissioner Roy Romanow called for an end to favoured treatment of WCB patients. Few believe the recommendation will be acted upon.
In Toronto, health-policy expert and author Michael Rachlis said government should take on Dr. Day's clinic. "There is nothing in the Canada Health Act that says it's okay for third parties to pay. But so many people seem to believe it, it's become like an urban myth," Dr. Rachlis said