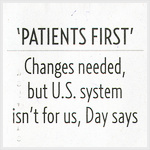 Changes needed, but U.S. system isn't for us
Nov 01, 2007
Montreal Gazette
He's been called Dr. Profit and the Darth Vader of health care, but the Canadian Medical Association's new president says his goal is the survival of the universal health system.
Orthopedic surgeon Brian Day, co-founder of the private Cambie Surgery Centre in Vancouver, says he's not promoting a two-tiered United States-style system.
"Canada's health system has been ranked 30th by the World Health Organization, and the U.S. was ranked 37th," Day said yesterday during a meeting with The Gazette's editorial board.
"Why would anyone copy a system that ranks substantially below ours?"
But the Canada Health Act is outdated and needs to be dramatically revamped, Day said.
"We want a system that recognizes patients come first."
The act was implemented about 45 years ago, in an era when drugs were less expensive, and operations like hip replacements and diagnostic equipment like MRIs and CT scanners did not exist.
"And there were virtually no wait lists," Day said. "Everything has changed since but the health system."
Acute care hospitals are the biggest expense in the health-care system, and they need to become more efficient, he said.
The way provinces fund hospitals promotes waiting lists, he argued.
Hospitals ration care and operating-room time because they get block funding - that is, an annual budget. Instead, Day proposes, hospitals should get funded for each patient they treat.
"Hospitals look upon patients as a cost," he said. "But once a hospital realizes that patients are a source of revenue, albeit government funding ... they will get doctors and operating room time."
What government officials fail to recognize is that they will save billions of dollars when they get rid of waiting periods, Day said.
"The longer patients wait for health care, the more it costs to treat them in the end," he said.
"If you are waiting for treatment, you are going to get worse."
Based on that premise, some worker compensation boards, including those in Quebec and British Columbia, have fast-tracked patients, Day said.
Not only are patients on public health wait lists not working and not contributing to society, but they're also receiving costly compensation packages, he said.
Japan, Britain, Belgium and France, among other countries, have eliminated their wait lists by changing their systems.
"We have nearly a million people in Canada on surgery wait lists and it will cost money" to eliminate the queue, Day said.
If a surgical operation costs $7,000 per patient, on average, it would require a one-time investment of $7 billion to get rid of the backlog, he said.
The only way to curtail private medical services is to provide treatment in the public system, Day advises. User fees, private insurance and co-payments are already in use in Canada, he said.