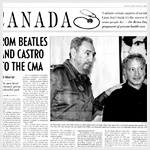 From Beatles and Castro to the CMA
Feb 18, 2006
National Post
From Beatles and Castro to the CMA
Dr. Brian Day: Likely new head of physicians' group has colourful past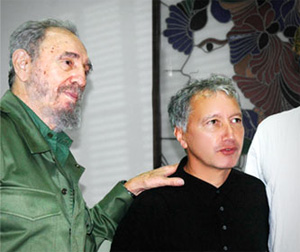 Dr. Brian day meets with Fidel Castro in a 2004 photo taken in Cuba, where they spent the evening discussing that country's health care system. Day, who may become the new head of the CMA, was born and raised in Liverpool, where he attended school with two of the Beatles.
Tom Blackwell

Through much of a long night, Brian Day sat on a two-seat sofa next to Fidel Castro, discussing health care, education and the Cuban dictator's unique solution to his country's medical waiting-list problem.

It was an unlikely meeting of minds for Dr. Day, a pioneer of private health care in Canada who is disdained by medicare defenders and who is poised to become the next head of the nation's pre-eminent physicians' group, the Canadian Medical Association (CMA).

But in the monochrome world of medical politics, Dr. Day and his background are nothing if not colourful. Raised in one of the grittiest neighbourhoods of Liverpool, the British ex-patriate went to school with two Beatles, learned as a boy to box and got the doctoring bug while helping his father, a pharmacist, mix medicines.

The accomplished orthopedic surgeon eventually co-founded a groundbreaking -- and controversial -- private surgical clinic in Vancouver. Now he is eager to promote private medicine as a way to help rejuvenate the rusting Canadian health care system.

Dr. Day is quick, though, to dismiss portrayals of him as a profit-obsessed right-winger.

"I was brought up as a socialist and my father and mother voted for the Labour Party," he says. "I'm proud of the fact I have a lot of friends who are socialists.... I admire certain aspects of socialism. I just don't think it's the answer the way some people do."

Nevertheless, Dr. Day and colleagues from the Arthroscopy Association of North America donated their services to train orthopedic surgeons in communist Cuba in 2004.



They worked closely with Dr. Tony Castro de Valle, Fidel's son and an orthopedic surgeon himself, who introduced them to his father one night. They sat down before midnight and did not part company until 5 a.m. "He just stays up all night."

It turns out that Cuba had its own problem with health care backlogs, brought to Mr. Castro's attention by an elderly man who had to wait a year for a hip replacement. The President responded by calling together the country's senior hospital and medical leaders.

"He said, 'I'm bringing you all back here in one year and there must be no wait lists for anyone.' And a year later, there were no wait lists," Dr. Day says with a laugh. "There is some value to an autocratic government."

The Canadian rarely misses an opportunity to also mention how one of Cuba's orthopedic hospitals has an entrepreneurial side, earning US$20-million a year providing surgery to patients from elsewhere in Latin America. The money is ploughed back into public health care, he said, suggesting Canadian public hospitals might learn something from the example.

Dr. Day, co-owner of the Cambie Surgery Clinic, should soon have a new pulpit from which to preach his faith in free-market forces. He was elected this week as B.C.'s choice for president of the CMA and, this being British Columbia's turn to head the group, his nomination is likely to be confirmed at a national convention this August.

It is a long haul from his beginnings in the downtrodden Toxteth neighbourhood of Liverpool during the lean post-war years, before his father could find a job to put his pharmacist training to use.

Dr. Day attended the same school and even sometimes took the same bus as Paul McCartney and George Harrison, and caught the pre-Ringo Beatles when they were "total amateur players" at the legendary Cavern club.

Dr. Day earned his MD and speciality licence as a general surgeon in Britain, then travelled to Canada to train as an orthopedic surgeon, but never returned to the U.K.

His first decade or so of practice bore no hint of the long waiting lists, personnel shortages and other problems that plague the system now. But all that had changed, he said, by the early 1980s.

He and several investors opened Cambie in 1996, with the goal of providing joint operations faster, more cheaply and outside medicare. Its services -- now ranging from cataract removal to knee surgery -- are delivered mainly to worker's compensation clients, as well as to members of the RCMP and the Canadian Forces, who are not subject to medicare rules, and to residents of other provinces who either pay out-of-pocket or are subsidized by their provincial health departments.

David Cubberley, the B.C. NDP's health critic, says the idea of using stand-alone clinics to provide such services is worthwhile, but he does not believe they need to be for-profit, and he bristles at Dr. Day's prescription for a parallel private system.

"He is by all accounts a gifted surgeon, and that may make [private health] a compelling argument for him, because a lot of wealth lies in that direction," Mr. Cubberly said. "But I think we have to take a broader view than what works for individual care providers."

Still, Dr. Day represents a bigger constituency in the medical profession than some might think, contends Dr. Bill Orovan, who runs a private clinic in Toronto.

"He is provocative and stands his ground when challenged by some of the more vociferous, left-leaning academics. In that sense, he's a good foil."