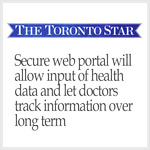 MDs launch online tool for patients
Apr 02, 2008
Toronto Star
Doctors may soon be tracking patients with high blood pressure or asthma over the Internet using online tools launched yesterday by the Canadian Medical Association.
The web portal, called mydoctor.ca, is geared to help doctors and patients work more closely together, especially to manage chronic diseases, including diabetes and heart disease. The secure portal also allows patients to input health information and lets them track their blood pressure, asthma and weight loss.
Billed as the first physician-driven Canadian electronic patient health record platform, experts say the portal will likely encourage patients to be more involved in their health care, but caution that Canada is still a long way from having a complete electronic health record in the country.
"This is a small intervention. This is not going to radically change medical care or patients' health," said Walter Wodchis, professor of health-care finance in the department of health policy, management and evaluation at the University of Toronto.
Created by Practice Solutions, a CMA company, the portal will be marketed to member physicians and will cost $240 a year for them to buy the entire suite of tools for their practice. Right now, there are about 200 Canadian doctors using the portal.
It's not yet clear if - and how - physicians will bill patients since most online services are not yet covered by provincial health plans, said Larry Mohr, president and CEO of Practice Solutions Ltd., at the news conference yesterday.
CMA president Dr. Brian Day said the web portal might help reduce health- care costs in the long term since it will allow doctors to better manage patients with chronic diseases.
"Over 70 per cent of health costs stem from chronic care," he said, adding he predicts compensation for online consultation will come as the technology advances.
"This could be an investment for them," Day said.
As the portal develops, other tracking tools will likely come online, including tools specifically for diabetes, smoking cessation and mental health, said Mohr, who points out the portal was designed to be as secure as online banking.
Scheduling patients online, prescription renewals and linking a patient's personal health record to hospitals and regional health systems might also be options, he said.
U of T's Wodchis said patients who use the portal must be vigilant about security and careful in how they input health data to ensure the tool is accurate and reliable. He also wondered how doctors will bill to use the portal.
Dr. Timothy Foggin, a Vancouver-based family physician with some 2,000 patients, started using the portal three months ago and said it has since become an invaluable tool for patient care and has helped his patients participate more actively in their health care.
And, he added, the portal helps save time in his practice because it allows him to efficiently monitor some patients without having to have office visits.
For example, an elderly homebound couple does not have to come into the office as often because he can monitor them online with the help of their children, Foggin said.