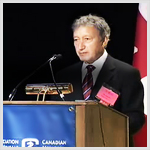 Back to the Future: Brian Day
Aug 22, 2006
CMA Annual Meeting
Time to take back our health care system.

I feel privileged that the General Council of the Canadian Medical Association, representing members from all regions of Canada, confirmed my election as President-Elect.
Dr. Brian Day's speech at the CMA / Aug 21 2006
As I affirmed at the August annual CMA meeting in Prince Edward Island, I do not favour "privatizing" Medicare, but I do believe that the private sector has an important role to play. I also believe that Canadians must have access to national drug and dental care programs, which at present are largely privately funded and delivered.

My support for a universal system that delivers quick access to care is unequivocal. Timely access to health care for those who are less privileged, particularly children, the elderly, and the poor is essential. Canadians must make choices as we attempt to define "medically necessary" and "core" services - reality dictates this. Similarly, user fees and co-payments, which currently exist throughout our system, must not impede equal and timely access for low income Canadians.

I have worked as a salaried university teacher, in full time public practice and in private practice. I have participated in and chaired many committees both academic and administrative at local, national and international levels. I have also travelled extensively as a visiting professor and speaker and have experience of medical practice in many other countries. I am a Past-President of the Arthroscopy Association of North America, the world's leading professional and academic society in my chosen field of specialization. Based on this experience, I have a broad outlook on health policy issues.

There are specific problems in our public system that need immediate attention, including issues relating to mental health, child health and the manpower crisis. Medical schools must be expanded and we need measures to recruit, retain and repatriate our doctors.

We must embrace the concepts of health promotion and disease prevention as cost effective ways to reduce the financial burden on our health care system. The CMA and its divisions can be the force that unites the profession as we seek to remedy mistakes of the past and introduce reforms and create a health system that truly is the envy of the world. Health reform, like medical practice itself, must be evidence based. We must work with governments to achieve our goals, and confront and oppose policies that are contrary to that mission.

The CMA will take the lead in enforcing patient and doctor rights. "Access to a wait list is not access to care" stated the Supreme Court in June 2005. "Canadians are suffering and dying on wait lists", they wrote. We must eliminate the long standing strategy of rationing of resources as a cost saving mechanism. This will require rational and realistic approaches. The CMA, and its related organizations, is perfectly positioned to lead that effort.