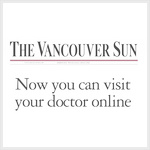 Now you can visit your doctor online
Apr 02, 2008
Vancouver Sun

The virtual house call, the latest thing in health care, arrived on Tuesday.

The Canadian Medical Association launched its mydoctor.ca website in Vancouver, saying it will let patients to share information online with their doctors.

It may also mean a range of new fees as patients are asked to pay for the privilege of communicating with their doctors via the Internet.

The CMA, which represents the country's doctors, called the health portal site "the first physician-driven Canadian electronic patient health record platform" and said it will act as an add-on -- or sometimes as a substitute -- for office visits.

CMA president Dr. Brian Day told the Vancouver Board of Trade the site will offer secure messaging between patients and doctors and will improve care "with the click of a mouse."

"It basically builds a virtual house call by taking communication between physicians and patients to the next -- online -- level," Day said.

Doctors across Canada pilot-tested the program over the past three months, but details such as the cost of services and how to pay for them are still being worked out.

The CMA is advising doctors to consider charging patients an annual fee of $50 to $100 to subscribe to the online service, and possibly an additional nominal fee for each online interaction.

The website features secure messaging between doctors and patients and provides tools to monitor chronic diseases and conditions such as obesity, asthma and high blood pressure.

It's not known how many of the nearly 70,000 doctors across Canada will sign on to the program. Patients can log on to the mydoctor.ca site and enter their doctor's name. If he or she is participating, the patient will be taken to the doctor's website.

Since the service is new and not covered -- yet, at least -- by government health insurance plans, patients may be asked to pay for online interaction.

Dr. Timothy Foggin, a Burnaby family doctor who had 30 patients involved in the pilot project -- of 2,500 patients and a few hundred doctors across Canada -- liked it so much he plans to offer it as an optional service to patients. He said he is canvassing his patients to check their responses to the service, and to the fees.

Foggin said patients with multiple chronic diseases wouldn't have to pay for some services because of a new B.C. government fee arrangement to encourage more doctors to take on complex cases. Other patients who can't afford to pay would also get the service free, he said.

"I guess you could say I'm an advocate of the service because it's useful, easy, secure and empowers patients," Foggin said, adding that it's especially practical for patients with chronic diseases who may require frequent monitoring, but may find it difficult to visit their doctors' offices.

"It is like the online version of the house call," he said in an interview. "This actually helps doctors manage their workloads. It means doctors can intervene earlier if they see things that are out of normal ranges."

One of Foggin's patients, 74-year-old Margot Hennessey, had quadruple bypass surgery last year and her blood pressure must be checked frequently. Hennessey said she takes blood pressure readings daily and enters the data on the website. If readings are out of normal range, they are flagged to Foggin and he contacts her.

"I think it's fabulous. It keeps me in control of my own health," Hennessey said.

"If I have to pay for this service I will, although I have no idea how much it will cost. My doctor and I use the service to message each other back and forth, whether it's about my blood pressure or appointments.

"It doesn't replace face-to-face visits, but with my busy lifestyle [volunteering and attending fitness classes] and at my age, I like the fact that I don't have to drive to his office in all the traffic so often," said Hennessey, who lives in Coquitlam.

Larry Mohn, president of Practice Solutions, a CMA subsidiary that created the program, said it actively engages patients and they will eventually be able to post their histories of procedures, surgeries, vaccinations, allergies, use the site to book appointments, request prescription renewals, and view diagnostic and laboratory test results and other medical reports.

Day, a Vancouver orthopedic surgeon who operates in his private Cambie Surgery Centre facility, said he expects to embrace the plan when it is complete.

Dr. Jay Mercer, who demonstrated the software that runs the site in a multimedia news conference from his office in Ottawa, said the process is "patient-controlled so patients can choose how much information to share with their doctors."

The CMA initiative is separate from an electronic medical records plan being implemented across Canada with federal and provincial government funding. In that plan, hospitals, health authorities, laboratories and diagnostic clinics are integrating information-technology systems to share patient records so that duplication of tests can be avoided and patient safety can be protected.