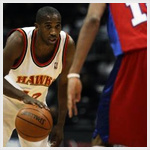 Claxton Rehabs Career Hopes with Knee Surgery
Aug 02, 2007
The Atlanta Journal-Constitution
Guard hopes surgery fixed balky knee that plagued his first season in Atlanta
By SEKOU SMITH
Amid what was easily his most trying NBA season, Hawks point guard Speedy Claxton always trusted his own instincts.
Even when the tests said otherwise, he knew something didn't feel right in his left knee.
That "catching" pain that cost him half the season, and plagued him all of it, turned out to be a small cartilage tear that he had repaired with arthroscopic surgery June 20 in Vancouver, British Columbia.
More than a month after his procedure, Claxton remains cautiously optimistic about his future, mostly because he has yet to test himself the way he's accustomed to during the offseason, but also because he learned a harsh lesson during his first season with the Hawks.
"I'm still trying to get it back," Claxton, who won't be allowed to engage in full-court activities for another two weeks, said Tuesday. "I know I'm a whole lot better than I played last year. And I just hope my knee gets all the way back to right so I can show people what I can do. Because there isn't a worse feeling that not being able to be at your best out there on the floor."
Both Claxton and fellow veteran point guard Tyronn Lue have endured similar procedures this summer. Lue had his right knee scoped last month in Los Angeles. That leaves the Hawks in a rather precarious position at the position with the start of training camp only a couple of months away.
Rookie Acie Law IV made the All-Rocky Mountain Revue team after a strong showing in the summer league last month in Salt Lake City. And often-forgotten veteran Anthony Johnson is still on the roster.
Hawks coach Mike Woodson is counting on both Claxton and Lue being healthy and ready to go when camp starts, giving him the depth and the luxury of choice at a position that was a source of much turmoil last season.
"We're hoping like [heck] everybody is healthy and ready to play when camp starts, and it's up to me to figure out who is going to play," said Woodson, who made it clear that both Claxton and Lue will be cleared for full activity before the start of training camp. "I know it was rough on these guys last year because of the injuries they had to deal with.
"Speedy was in a funk because he was so certain in his mind that something was going on with his knee. And it wasn't like he wasn't trying everything he could to correct it. But it just wasn't getting any better."
Claxton continued his rehab for a month after the Hawks' season ended in mid-April before team doctors determined that there was more going on than just muscle imbalance and instability.
He was referred to Dr. Brian Day in Vancouver, the president of the Canadian Medical Association and head of the North American board of orthopedic surgeons.
Day located the cause of Claxton's pain immediately, ending all the guessing Claxton was doing on his own.
The small cartilage tear in his knee was removed, and the remaining cartilage was smoothed out, ending the catching feeling Claxton experienced every time he made a hard cut or pivot in one direction.
Just being able to run without that pain, Claxton said, is a victory. But that doesn't help him forget those dark moments, when he wondered if the career he had carved out for himself — including the four-year, $25 million free-agent deal he signed with the Hawks last summer — had come to an end.
"I can't lie, it crossed my mind," said Claxton, who averaged 5.3 points and 4.4 assists in 42 games last season. "That's only human, especially when you're dealing with injuries and people are telling you that nothing's wrong and you know it just doesn't feel right. But I knew it would never get to the point where I couldn't keep playing. I know I've got a lot of good years left in me."