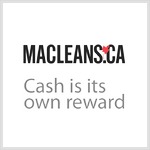 Cash is its own reward
Jun 18, 2008
Macleans
B.C. experiments with a controversial plan to improve health care

by Nancy MacDonald

Tiled in marble and lined with black leather couches, the Cambie Surgery Centre is not your average doctor's office. Three chic receptionists wearing headsets oversee the clinic's tranquil, half-full waiting room. Upstairs, Brian Day, a tiny ball of energy in teal scrubs, is rebuilding a patient's anterior cruciate ligament. Said to be among the world's top arthroscopic surgeons, Day made his name fixing ACLs — and challenging Canada's single-payer health care system, which he considers sluggish, bloated and lazy. Public health care advocates have labelled the outgoing president of the Canadian Medical Association "Dr. Profit," and accuse him of promoting a two-tier system.

Lately, Day has also been championing a radical model of hospital funding that the B.C. government has been quietly testing since fall. In Canada, hospitals have global budgets: fixed annual sums they receive from provincial governments. But B.C. is trying something different. Since last fall, the emergency rooms of four Vancouver-area hospitals, including the country's second-biggest facility, the sprawling Vancouver General Hospital — a stone's throw from Day's clinic — have instead been paid per procedure.

"Say an MRI costs $750," Day said on a short break between knees. "Every time St. Paul's performed an MRI, they would get $750." The more MRIs, CT scans, joint replacements and bypass surgeries hospitals like St. Paul's perform, the more money they bring in. This model, which Britain adopted in 2004, is known as "patient-based funding" or "payment-by-results" and is used, says Day, in Britain, Australia, Norway, France — in fact, in every developed country except Canada. To some, B.C.'s approach, which injects business principles like incentives and competition into the public system, amounts to an "Americanization" of medicare. To Day, it's simply a step away from a "foolish" approach to funding hospitals. "This is how everyone else is doing it," he says, hands thrown skyward in exasperation.

Under B.C.'s experimental model, participating hospitals are not only paid per procedure, they are also given bonuses for treating patients quickly. When St. Paul's treats a patient with a minor problem (a sprain or a small cut requiring stitches) within two hours, or a moderately injured person (say a broken bone) in under four, the hospital receives an extra $100. If a hospital bed is found for a major case in under 10 hours, the government forks over an additional $600. Behind the scenes, a supervisor tracking progress "cracks the whip" to keep the ball rolling, says Clay Adams, spokesperson for the Vancouver Coastal Health Authority, the health care provider that oversaw the project.

"If you give someone all the money upfront, every patient who comes along is just bust to you — they're just using up your money," says Day. "That's bad management. It doesn't encourage productivity or provide any incentive to fill spots when procedures are cancelled." Within three to four years of the program being implemented, he says, B.C. will see significantly shorter wait times and more efficient hospitals. "We already are," says Dr. Cynthia Startup, general manager of the emergency trauma program at Lion's Gate Hospital in North Vancouver, which is taking part in the pilot project. Staff morale is up because the ER isn't constantly tied up in bottlenecks. And not only have physicians noticed a difference, patients notice. Angry letters, which used to flood Startup's office several times a week, have slowed to one or two a month. She's even seeing patient notes thanking the hospital for its swift care.

According to the pilot project's preliminary results, speed of assessment rose 10 per cent across the board, a result provincial Health Minister George Abbott calls "promising." B.C., he says, is considering a wider shift to activity-based funding, a dramatic change from the way its $13-billion health care system is run. "What B.C. is trying to do is to make sure that its limited dollars go to targeted health providers — and based only on what they're providing," says Brian Golden, a health expert with the University of Toronto's Rotman School of Management. "It's consistent with the principle that you only pay for what you get." In short, the money follows the patient. In January, New Brunswick announced it is considering activity-based funding. According to Day, Quebec is, too.

For answers, he believes Canadian policy-makers should look to the country of his birth, the U.K., where the National Health Service recently introduced market-style reforms. Medicare's bogeyman was raised by working-class, socialist parents in Toxteth, an inner-city neighbourhood of Liverpool. Day's father, a pharmacist who struggled through the lean postwar years, pushed him toward medicine. In 1973, he relocated to Vancouver; he'd seen a picture of the city flanked by snow-capped mountains in a magazine. But by the late '80s, he had become frustrated with Canada's health care system. Day thinks we could learn from the fact that Britain's Labour government, which for 60 years dismissed the idea of private medicine, just announced that the country's "failing hospitals" will be run by private companies and will triple the number of private-sector surgical procedures within the next year. Over the past few years, it has rolled out performance-based funding across most hospital services.

But some doctors in Britain are raising alarm bells. "If it's introduced in Canada, it means the writing is on the wall for the public health system," says Dr. Allyson Pollock, a physician and head of the Centre for International Public Health Policy at the University of Edinburgh. "They're trying to make out that it's a sort of performance-based system. It's simply a pricing mechanism. That's the bottom line," said the dark-haired Scot, in Vancouver this spring for a public forum hosted by the B.C. Health Coalition. "The first, small steps are putting in the information technology, and getting everyone used to having it."

Critics don't just see it as an attack on the single-payer system. The U.S. literature shows that pay-for-performance can breed its own set of problems, namely gaming. This might mean artificially reducing ER wait times by delaying the registration of a patient or by "cream skimming" — favouring simple over more time-consuming, complex cases, says Pollock. Some providers might upcode patients, fraudulently placing them in more lucrative pay categories. "That means the public sector has to put in monitoring and surveillance systems, which brings a complete breakdown of trust," she says. "The health board no longer knows whether they can trust the service provider. Hospitals begin to compete against each other, and against the for-profit, private sector." "People get transferred between hospitals every day, across B.C.," says B.C.'s opposition health critic, Adrian Dix. "This model works against the very co-operation we need to make a health system work."

Indeed, one London hospital won't share its MRI scanning protocols for the rare blood disease thalassemia because it makes money when those patients are referred from elsewhere, says London-based physician Jacqueline Davis, also a founding member of the advocacy group Keep Our NHS Public. And Davis says that there has been a rise in emergency readmissions over the last two years — patients who have been released prematurely or after inadequate treatment — reflecting the new pressure to maximize turnover in Britain. "Financial pressures mean that we now see managers acting like bailiffs for a ruthless landlord, eager to evict one set of patients in order to make room for another."

But, for too long, there have been too many incentives to do too little, says Raisa Deber, who has been teaching health policy at the University of Toronto since the 1970s. "Why on earth would I admit a patient? I'm just going to have to absorb that in my global budget — and that may be pricey."

Activity-based funding is no silver bullet, Deber cautions; it won't solve related problems like wait times and sky-rocketing hospital operation costs. Then again, Day never said it would. "The future doesn't look rosy. The time is going to come where Canadians make real choices. We can't just carry on: joint replacement and transplants, new hearts and lungs cost hundreds of thousands of dollars a year — and that's before nanotechnology, gene therapy and stem cell therapy." So B.C.'s new funding model amounts to a status quo corrective, not a cure-all. "Status quo," says Day, paraphrasing Ronald Reagan, before heading back to the operating table, is Latin for "the mess we're in."