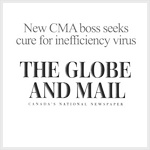 New CMA boss seeks cure for inefficiency virus
May 10, 2007
Globe and Mail
GARY MASON

VANCOUVER -- There isn't a week that goes by that Dr. Brian Day doesn't get a letter from someone with a story that backs his claim that the public health-care system is in serious need of an overhaul.

One man wrote the president-elect of the Canadian Medical Association to tell him about the urgent heart test his doctor said he needed. He got a letter from the local hospital giving him an appointment ... three months later. It was the footnote at the bottom of the letter that was the real kicker.

"It said, 'If the person named in this computer-generated letter is deceased please accept our sincere apologies,' " Dr. Day recalled the other day.

In August, Dr. Day will begin his one-year term as association president. As an owner of the largest private hospital in Canada, he has made little secret of his feelings for the state of public health. Among other things, he believes the system is horribly inefficient and is being compromised by a bloated bureaucracy.

It is a viewpoint, he says, constantly buttressed by letters he receives from users of the system.

He received one, for instance, from an American who told him how much he loved Canadian medicare. While visiting the Great White North, the man experienced some chest pains and went to an Ontario hospital for tests.

He received an electrocardiogram, an X-ray, some blood tests and a few other procedures in the course of evaluating his health status. He later received a bill in the mail for $21.05.

"This is a hospital that doesn't care about revenue because they get a lot of it anyway from the government," Dr. Day said in a recent interview. "What's another $20 or $50? This guy had unlimited insurance."

At a minimum, the work he had done would have cost Canadian taxpayers $600 or $700. Instead, we get $21.05.

"How can someone fight to save that? It's ludicrous."

Many are apprehensive about the start of Dr. Day's reign atop the CMA. It is one of the oldest, most established - and establishment - bodies in the country. It is only three months younger than Canada itself. Over the years, it has mostly taken a don't-rock-the-boat position on the major health-care issues of the day.

Dr. Day is likely to change that, if only for 12 months.

How much he actually accomplishes during that short period of time, however, remains to be seen. He'd love, for instance, to see the federal government add three more principles to the five that form the foundation of the Canada Health Act. They would be: efficient, effective and responsible, which were the three principles Ottawa left out when it borrowed liberally from the eight tenets set out in Tommy Douglas's Saskatchewan Medical Insurance Act.

"What we have isn't Tommy Douglas's dream," Dr. Day said. "Maybe if we had Tommy's eight original principles, we wouldn't be in the mess we're in now."

Of the five principles that form the backbone of the Canada Health Act - comprehensive, accessible, universal, portable and government run - only one is being enforced, Dr. Day feels. The system is government run.

"The other principles were abandoned long ago," he said.

Dr. Day wants people to understand one thing: He is not some anti-medicare bogeyman intent on using his exalted position at the CMA to push a private-medicine alternative.

He believes private clinics and hospitals like his can complement the public system and make it more cost effective and sustainable.

To that end, he believes the Auditor-General of Canada should be taking a closer look at our public health-care institutions, although that seems like a job it would take 10 auditors-generals to do, not one. But he's right. Hospitals don't really have to defend their ways.

They get a guaranteed lump sum of money each year from the government and there isn't a whole lot of pressure on them to streamline operations or seek ways to eliminate wasteful practices.

If there was, you wouldn't hear about Americans walking out of our hospitals with a bill for $21.05 for tests costing several hundred dollars.

"There is an answer to the health-care crisis," Dr. Day insists. "We need to build more efficiencies into the system, find more revenue streams, get rid of wait lists, introduce activity-based funding."

And once he gets that done Brian Day has a few other things on his list.