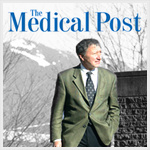 A new 'Day' for the CMA
Feb 28, 2006
The Medical Post
British Columbia physicians choose private clinic owner Dr. Brian Day as president-elect
By Matt Borsellino
VANCOUVER - Dr. Brian Day's year as the profession's national spokesman promises to be very interesting - if it comes to pass.
Earlier this month, Dr. Day, a nationally known proponent of more private health-care funding, cleared the first obstacle to becoming president of the Canadian Medical Association for 2007/08. He beat four past-presidents and the current president of the British Columbia Medical Association in a ranked ballot election of physicians across the province.
That result makes him B.C.'s official nominee for the post. However, he could be challenged by a candidate from the floor this August, when 250 CMA governors from across the country hold their annual meeting in Charlottetown.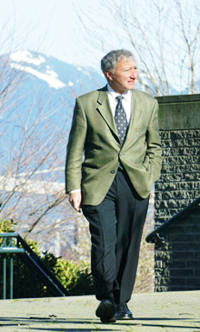 Dr. Brian Day: "I don't see anything immoral, unethical or illegal for a person in a democratic society to be able to spend his or her own money on their own health care."
Challenges to a province's duly elected nominee for CMA president have been mounted, most recently in 2003, when Dr. John Tracey of Ontario, who had limited political experience and was not a member of the CMA, won the provincial election but lost out to Dr. Albert Schumacher, a candidate he had beaten. Dr. Schumacher was confirmed by CMA governors.
Here, some were talking openly of such a challenge in the immediate aftermath of the election. Later, the entire choir seemed to be singing the same tune, and hardly a word was uttered about a challenge.
Before the election, there was plenty of speculation about a challenge. The CMA has had a hard time grappling with the private funding debate for the same reason it has become a national pre-occupation: Both the public and CMA members are split about the propriety of introducing more privately funded health-care.
Ranked ballot voting, which ensures the winner earns more than 50% of the vote, was used in the election to ensure a "sound democratic" result. Candidates with the fewest votes are eliminated and those who voted for them have their second selections counted, then their third until a winner is declared.
Though the B.C. race went the full five ballots, Dr. Day had plenty of support throughout the process. He received 35% of the votes on the first ballot, more than twice as many as the next candidate, and he was in the lead for the whole race.
Dr. Day's entry into high levels of the national medical establishment comes at an interesting time. Last year's Chaoulli Supreme Court ruling opened up Quebec to more private funding. In response, Quebec officials have offered care guarantees for patients needing three procedures. Dr. Day called that a "good start," but he said the decision may be challenged in court because it didn't include all procedures.
As for Dr. Day's home province, Premier Gordon Campbell, in his election-victory Throne Speech, suggested there is a need for changes to the Canada Health Act. "Why are we so afraid to look at mixed health-care delivery models?" the premier asked.
On a federal level, the minority Conservative government might be friendlier to private health-care interests. As Dr. Day put it: "After 15 years of commissions, committees and councils, they're looking for solutions," he said during a phone interview from Vancouver.
'Very strong win'
BCMA executive director Dr. Mark Schonfeld said the election result is "a very strong win."
"I don't think orchestrating a challenge will be well received by the B.C. caucus," Dr. Schonfeld said. "Whether there's a challenge or not, it will be an indication of how the CMA really wants to tackle the (private funding) issue."
Dr. Day said his election platform was similar to those put forward by the five other candidates. "The status quo is not acceptable, and the CMA needs to be at the table with government," he said.
"B.C., Alberta and Quebec are about to break out of the government inertia referred to by the Supreme Court (in the Chaoulli case)," Dr. Day added. "It's an exciting time to be involved, but there's lots of work still to be done. The most populous province (Ontario) still hasn't figured out how it will deal with the crisis, but I think they also realize there finally needs to be a change—not just pour more money into the system—and doctors need to be part of the solution.
"I don't see anything immoral, unethical or illegal for a person in a democratic society to be able to spend his or her own money on their own health care."
Dr. Day said he also wanted to put to rest concerns that he's more interested in furthering his own agenda than representing the association.
"I do have views, but I also realize you need to work with others, and the way I think about things isn't too different from the way many CMA members think. I don't think any more than 15% or 20% are staunch defenders of the status quo.
"Canadians on waiting lists and those who can't find a GP are frustrated," he added. "There's lots wrong with the system and governments have to start funnelling more resources into health services, not the bureaucracy."
In the end, Dr. Day said he doesn't believe there will be a Charlottetown showdown.
"I was elected in a race designed to deliver the candidate most B.C. physicians want," he said. "I don't expect to be challenged, but I have to admit it's a possibility."
As founder of Cambie Surgery Inc., a private clinic based here, and president of the Canadian Independent Medical Clinics Association, Dr. Day, who is also an orthopedic surgeon, has been a force in federal health-care politics.
"I don't think CMA staff perceive me as an off-the-wall person who won't be able to work with them," he noted. "I haven't seen or heard any apprehension on their part.
"I'm going to do the best I can to help both patients and physicians across the country get and deliver quality health care. That's my only mandate."
This article appeared in the February 28, 2006 edition of the Medical Post. The original article can be seen online here.