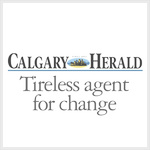 Tireless agent for change
Aug 25, 2007
Calgary Herald
Nigel Hannaford
Brian Day, new Canadian Medical Association president, came to my notice several years ago as a doctor who took his own high-tech equipment with him on a job. Having founded a private health-care clinic in Vancouver in 1995 despite an NDP government in Victoria opposed to private health-care on principle, by 2001 he had got an annual caseload of 3,200 patients, and better equipment than public hospitals where he also practised.
"Our accreditation is much tougher than for public hospitals," he told me then, "and the equipment we have far exceeds in capability what they have. Our anesthesia machinery is brand new, most of theirs are 15 years old. We lend them our equipment: When I do hip arthroscopy at the UBC campus hospital, I use our backup equipment."
I pictured Day and an intern heaving traction devices and black boxes into a Jimmy on the Cambie Street Clinic's loading dock, but apparently that wasn't how it was.
"We keep it there," he said. "They're broke; they can't afford their own."
I only mention this because Day has been damned in the past as just a prophet of health-care profit. A lightning rod for those whose only solution to Canada's health-care woes is more money, the voltage just went up now that he's CMA president.
But, there's something reassuring about a physician so committed to patient care that he buys surplus machines, and keeps some where public-system clients get the benefit.
Day doesn't expect, or want, to privatize Canadian health care. Nor can he; the CMA can suggest what it likes, but those decisions rest with the people, per their politicians.
Still, Day does believe the system's incentives should change. By building it around the patient, not the institutions, he expects it will become more responsive.
And it needs to. We pay a lot for a little, here. The birth of J.P. and Karen Jepp's quads in Great Falls is a happy story. But, if a U.S. city of 60,000 has a hospital with 20 incubators capable of level three care for infants, and the staff to run them, what are we doing wrong in million-strong Calgary, in oil-rich Alberta? The CHR has just 16 now, and would like to get to 21 soon.
Part of the problem, as Day told a Fraser Institute audience in Calgary once, is we're dealing with a state-owned monopoly that dictates what's spent, owns the facilities that deliver service, decides their locations, trains, employs and regulates the workers, and governs how, when and where the population is served.
"A bit like Aeroflot," he said, then quoted public health advocate Charles Wright, former VP of medicine at Vancouver General, "Administrators maintain waiting lists the way airlines overbook. As for urgent patients in pain, the public system will decide when their pain requires care. These are societal decisions. The individual is not able to decide rationally."
So, Day's agenda is changing hospital funding, improving access to technology and legalizing private insurance. He also wants changes to the Canada Health Act, all aimed at incenting more customer-friendly outcomes.
What are his chances?
He may influence the spread of private insurance; the courts are moving that way, anyway. Apart from Quebec's Chaoulli decision, that more or less said if Quebec hospitals couldn't pump people through faster, they should at least be able to buy insurance so they could be treated somewhere else, the Calgary-based Canadian Constitution Foundation is supporting parallel cases in Alberta and Ontario. Executive director John Carpay comments, "Chaoulli is a very strong precedent outside Quebec; the fact there are two court actions is added weight for the voices for change."
Good luck on the Canada Health Act with a minority government in Ottawa, though. I don't expect much.
But, hospital funding is provincial business. Cash is now given per capita; a patient in emergency is thus a cost, not a customer. Paying hospitals by procedure says Day, encourages the efficiences needed to serve more.
(It would also make them more conscious of all their costs; first comparisons of treating the Jepps here and in Montana were misleading, as CHR estimates didn't include fixed costs; U.S. billings do. Who would have thought that with transportation costs out, the U.S. cost turned out to be not dissimilar to the CHR's?)
Nobody should underestimate the force of inertia in Canadian health care.
However, Day is at least talking about it from a bully pulpit. Some say he's unreasonable. But, as G.B. Shaw said, progress depends on the unreasonable man -- in this case, one sufficiently so to supply his own equipment on a government job. We await the headlines, the howls and hope for -- progress.