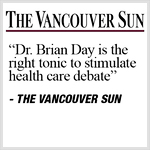 Dr. Brian Day is the right tonic to stimulate health care debate
Aug 18, 2006
Vancouver Sun
Six respected, highly qualified physicians put their names forward in February as candidates in an election for the nominee from British Columbia to serve as the next president of the Canadian Medical Association.

In a fair, democratic and transparent process, members of the B.C. Medical Association whittled the field to a contest between Jack Burak, a family physician and former president of the BCMA, and Brian Day, founder of the Cambie Surgical Centre, the largest private surgery hospital in Canada.

In what some considered a stunning upset, Day was elected on the last of five ballots by a margin of 167 votes.

By tradition, it is B.C.'s turn to select the president-elect of the CMA, but this choice must be confirmed by delegates to the CMA annual meeting in Charlottetown next Tuesday. Other candidates can challenge the nomination from the floor at the meeting, but only twice has a candidate other than the provincial nominee been elected.

This lengthy preamble has been necessary to make it clear that Day is the BCMA's democratically elected nominee and to explain why Burak's decision to challenge the results of the election from the floor of the convention is wrong.

Not only is Burak flouting the democratic process, he's breaking his own promise. Asked before the February election whether candidates would abide by its results, he said: "I will absolutely accept and abide by the democratic process of this election and its results, as the process will ensure that whoever is B.C.'s nominee for president-elect of the CMA for 2007 will have obtained at least 50 per cent plus one of the total votes cast in this election. I will not run from the floor of the General Council in P.E.I. in August 2006 if I am unsuccessful in my bid to win this election."

There's no ambiguity here. Burak is doing exactly what he said he wouldn't do.

This takes nothing away from his years of experience in the BCMA and CMA and other qualities that would make him a capable CMA president. But he lost the election. If Day's election, with more than 1,393 votes, is overturned by 265 delegates at the CMA meeting, B.C. doctors may well ask why they bothered going through the democratic process at all.

Perhaps a majority of B.C. doctors recognized that the CMA needs more at the helm than a known entity who the establishment is comfortable with. It needs a catalyst for change.

In the wake of the Chaoulli v. Quebec court decision last year, Canadians need to engage in a critical debate on the future of health care in this country and Day is ideally suited to stimulate that discussion.

The ruling by the Supreme Court of Canada declared that if patients suffering from painful or life-threatening conditions are subject to extended delays for medical treatment, and have no other recourse, their rights are being violated. This prompted the federal and provincial governments to introduce wait-times guarantees, so that patients receive care within a proscribed time frame. But a wait-time guarantee is a Band-Aid on a sick system.

As a pioneer in private health care delivery, Day believes in universal health, drug and dental care for those who can't afford private treatment, and user fees for those who can. His clinic treats thousands of patients who can bypass the public system because they are Workers' Compensation cases, military personnel or police. He wonders, quite reasonably, why all Canadians can't have the same choice.

Canadians are not about to give up universal health care funded by taxpayers, but surely the cost of delivery must be considered. How much does it cost to perform an organ transplant, set a broken leg or subdue an infection? We don't know. The public health care system is unable to quote the cost of any procedure.

We need to know what the costs of these medical services are so that we can determine whether the private sector can provide them at a lower cost.

As CMA president, Day won't have power to formulate public policy, but he will be able to advance new approaches to the problems that bedevil health care in Canada. He might not have all the answers, but he will command a platform from which he can address many of the questions.