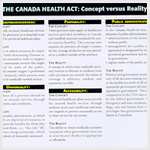 The Canada Health Act Concept versus Reality
Jan 01, 2000
Print Source
The Canada Health Act - Concept versus Reality
Dr Brian Day

Comprehensiveness

The Concept: All medically necessary healthcare services provided by physicians or in hospitals must be covered by provincial healthcare plans.

The Reality: A concept in which resources for major life- and limb-threatening illnesses or injuries are rationed in order to support medically unnecessary services that might be desired by some of the public. Subsidized cosmetic surgery is performed in public hospitals, while patients wait over a year for medically needed services.

Universality

The Concept: All residents of a province should be entitled to insured services through uniform terms and conditions.

The Reality: An anti-socialist phenomenon, in which the needy are deprived of resources in order to provide benefits for those who do not need them, i.e., "the rich." BC and Alberta charge premiums, which leave hundreds of thousands uninsured.